How to Create Custom Printed Pet Food Bags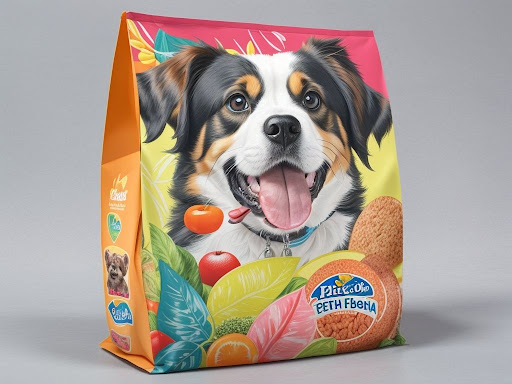 Custom-printed pet food bags offer numerous advantages for pet food brands. In this article, we will explore the reasons why choosing custom-printed pet food bags is beneficial and the factors to consider when designing them.
By understanding these key aspects of creating custom-printed pet food bags, you can effectively showcase your brand, attract customers, and ensure the integrity of your pet food products.
Packing Pigeon is trusted by some of Canada's largest cannabis, food, and soap companies.
With over 10 years of experience, you can rest assured that we will have your packaging produced to the highest caliber and delivered on time, every time.
We offer custom stand-up pouches. Check our custom stand up pouch shop. 
Order now and receive free online proofs, free express shipping, and lightning-quick turnaround times.
Designing Custom Printed Pet Food Bags
Custom-printed pet food bags serve as both a practical necessity and a powerful marketing tool. In this section, we will embark on a creative journey to explore the various elements involved in crafting a compelling design.
From creating a design brief to selecting imagery, logos, and branding elements, we will uncover the secrets behind captivating layouts and compositions. Join us as we dive deep into the world of pet food bag design, ensuring every detail is pawfectly tailored to leave a lasting impression.
Selecting Imagery, Logos, and Branding Elements
The process of selecting imagery, logos, and branding elements for custom-printed pet food bags involves careful consideration to create an impactful design that represents the brand effectively. Some key factors to consider in this process are color choices, imagery selection, logo placement, and font selection.
When selecting imagery, it is important to choose visuals that resonate with the target audience and align with the brand's identity. For example, if the brand focuses on natural and healthy pet food, images of fresh ingredients or happy pets can be used to convey that message.
Logos and branding elements play a crucial role in creating brand recognition and should be strategically placed on the pet food bags. They should be clear, legible, and visually appealing. Placing the logo in a prominent position on the bag can help in brand recall and building brand credibility.
When designing custom-printed pet food bags, selecting imagery, logos, and branding elements is a crucial step. By carefully considering color choices, imagery selection, logo placement, and font selection, a visually appealing and effective design can be created that represents the brand accurately and resonates with the target audience.
Layout and Composition
The layout and composition of custom-printed pet food bags are critical in attracting customers and effectively conveying the brand message. It entails strategically arranging visual elements and the overall design structure. Below is a table that showcases the key aspects of layout and composition in custom-printed pet food bags:
| | |
| --- | --- |
| Aspect | Description |
| Visual Hierarchy | Establishing a clear hierarchy of elements, such as the brand logo, product name, and key information, to guide the viewer's attention. |
| Typography | Thoughtfully selecting fonts that are legible, represent the brand's personality, and effectively communicate the desired message. |
| Colors and Graphics | Selecting colors that align with the brand identity, evoke desired customer emotions, and incorporate relevant graphics or pet images. |
| Balance | Achieving visual balance among different design elements, preventing any single element from overpowering the overall composition. |
| White Space | Utilizing white space thoughtfully to provide breathing room for design elements, ensuring a clean and well-organized appearance. |
| Readability | Ensuring that all text is easily readable by considering factors such as font size, contrast against the background, and appropriate spacing. |
| Brand Consistency | Maintaining a consistent design language and using brand elements uniformly across various platforms to reinforce brand recognition. |
By considering these factors, pet food companies can create custom-printed bags that effectively convey their brand message, attract customers, and differentiate their products in the market.
Reviewing and refining the design: Because even pet food bags need a little touch-up before they're ready to strut their stuff on the supermarket shelves.
Printing and Production Process
Get ready to uncover the fascinating world of printing and the production process when it comes to creating custom-printed pet food bags. We'll dive into each sub-section, starting with preparing the artwork for printing, followed by the crucial steps of proofing and approvals.
Then, we'll explore the various printing techniques and technologies that bring these bags to life. We'll examine the essential finishing and packaging aspects. So fasten your seatbelts and get ready for an eye-opening journey through the intricate world of pet food bag production.
Preparing the Artwork for Printing
Preparing the artwork for printing is an essential step in creating custom-printed pet food bags. It involves several key steps to ensure that the final printed design is accurate and visually appealing. Here is a list of steps to follow when
Check file formats: Ensure that the artwork file is in a suitable format for printing, such as vector files like AI or EPS, or high-resolution raster files such as TIFF or PSD.

Set color mode: Convert the artwork to the appropriate color mode for printing, typically

CMYK

for full-color printing or Pantone colors for spot colors.

Check image resolution: Verify that all images used in the artwork have a resolution of at least 300 pixels per inch (PPI) to ensure high-quality printing.

Embed fonts: If any custom or uncommon fonts are used in the artwork, embed them to ensure that the text appears correctly when printed.

Convert to outlines: Convert any live text to outlines or paths to prevent any font-related issues during the printing process.

Bleed and trim marks: Add bleed area to the artwork, typically 1/8 inch, to ensure that the design extends beyond the final trim edge. Include trim marks to indicate where the artwork should be trimmed after printing.

Proofing: Before finalizing the artwork, review a digital or physical proof to check for any errors or inconsistencies in colors, layout, or text.
Remember, accuracy and attention to detail are key when Preparing the Artwork for Printing. Double-checking all elements of the design will help ensure a successful and visually appealing final printed product.
Learn about how to create custom printed dog treat bags.
Proofing and Approvals
When it comes to proofing and approvals for designing custom-printed pet food bags, it is crucial to ensure that the final product meets all the necessary requirements. Here are the steps involved in the proofing and approvals process:
Create a digital or physical proof of the design: This allows you to see how the design will look on the actual pet food bags and make any necessary adjustments.

Review the proof for accuracy: Carefully check all the elements of the design, including text, images, and colors, to ensure they are correct and aligned with your brand guidelines.

Seek feedback and approval: Share the proof with key stakeholders, such as your marketing team or executives, and gather their feedback. Address any concerns or suggestions before proceeding.

Consider regulatory compliance: Ensure that the design complies with all relevant regulations and standards for pet food packaging. This may include nutrition information, ingredient lists, or required logos and symbols.

Finalize the design: Once all feedback has been incorporated and any necessary revisions have been made, obtain final approval from all relevant parties involved in the decision-making process.

Provide the approved proof to the printer: Send the approved proof to the printing company to serve as a reference during the production process.
 Pro-tip: It's essential to involve multiple stakeholders during the proofing and approvals stage to ensure that all aspects of the design, from branding to regulatory compliance, meet the necessary standards. Regular communication and collaboration with your team and any external partners can help expedite the approval process and prevent delays in production.
Quality Control and Compliance
When it comes to creating custom-printed pet food bags, ensuring quality control and compliance is of utmost importance. In this section, we'll explore the regulatory standards for pet food packaging that must be met, the rigorous testing and certification processes involved, and the crucial measures taken to ensure food safety. So grab a seat and let's dive into the world of quality control and compliance in pet food packaging!
Regulatory Standards for Pet Food Packaging
When it comes to pet food packaging, there are certain regulatory standards that must be adhered to ensure the safety and quality of the products. These standards are put in place to protect pets and consumers alike. The following table highlights the key factors to consider regarding regulatory standards for pet food packaging:
Regulatory Standards for Pet Food Packaging

Details

1. Packaging materials

The materials used for pet food packaging must be safe and non-toxic. They should not leach any harmful chemicals into the food, ensuring the safety of pets.

2. Labeling requirements

Pet food packaging must include accurate and clear labeling that provides essential information such as the product's ingredients, nutritional content, feeding instructions, and any relevant allergen warnings. This ensures transparency and helps pet owners make informed choices.

3. FDA regulations

The Food and Drug Administration (FDA) sets

regulations

and guidelines for pet food packaging, ensuring that manufacturers meet specific safety and quality standards. Compliance with these regulations is crucial to protect pets from potentially harmful substances.

4. Product claims

Pet food packaging must avoid making false or misleading claims. Any claims made on the packaging should have scientific evidence or research supporting their validity. This protects consumers from deceptive marketing practices.
Ensuring compliance with regulatory standards for pet food packaging is essential to prioritize the health and safety of pets. By adhering to these standards, manufacturers can provide pet owners with high-quality and trustworthy products.
Make sure your pet food bags pass the test because Fido deserves only the best.
Frequently Asked Questions
What are the benefits of using custom-printed pet food bags?
Using custom-printed pet food bags has several benefits:
Increased consumer appeal: Custom designs and branding can attract more customers to choose your pet food products.

Freshness and protection: Custom bags can be designed to provide maximum shelf stability and protect your pet food from moisture and other harmful elements.

Flexible packaging solutions: Custom bags offer a range of options such as flat pouches, gusseted bags, or stand-up pouches to suit your specific product needs.

Product differentiation: Custom printing allows you to stand out in crowded pet supply stores and convey your brand's unique story.

Cost-effectiveness: Custom-printed bags can help you reduce costs by eliminating the need for labels or separate packaging materials.
What types of pet products can be packaged in custom-printed bags?
Custom printed bags can be used to package a wide range of pet products, including:
Pet food (dry or wet)

Treats

Toys

Training aids

Grooming products

Health supplements
How do resealable packaging and single-use pouches benefit pet food products?
Resealable packaging is ideal for dog food and custom dog treat packaging as it helps keep the products fresh and maintain their flavor and aroma. On the other hand, single-use pouches can be used for cat food packets, offering convenience and freshness while reducing the risk of overstocking and wasted products.