How to Fill Stand-Up Pouches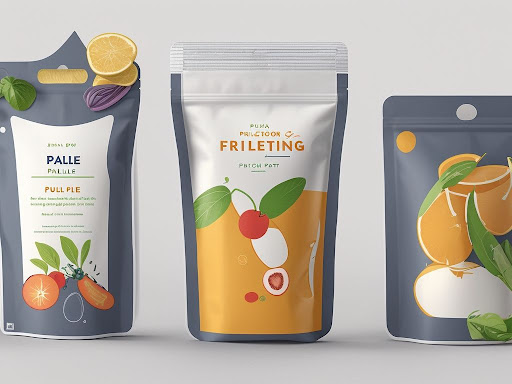 Stand-up pouches are a popular packaging option that provides convenience and versatility for various products. These are flexible pouches with a sturdy bottom that allows them to stand upright on store shelves or in storage.

There are some tips and tricks that can further streamline the process and ensure optimal results. These include ensuring proper product consistency, using appropriate filling machines or funnels, leaving an adequate headspace, and double-checking the pouches for any leaks or damages before sealing.
By following these guidelines and implementing the tips and tricks, you can effectively fill stand-up pouches and ensure the quality and integrity of your packaged products.
Packing Pigeon is trusted by some of Canada's largest cannabis, food, and soap companies.
With over 10 years of experience, you can rest assured that we will have your packaging produced to the highest caliber and delivered on time, every time.
We offer custom stand-up pouches. Check our custom stand up pouch shop. 
Order now and receive free online proofs, free express shipping, and lightning-quick turnaround times.
What are Stand Up Pouches?
Stand-up pouches are a type of flexible packaging that is specifically designed to stand upright on its own. These pouches are commonly utilized in various industries such as food, beverages, pet food, and cosmetics. They possess a gusset at the bottom, which permits them to expand when filled with product. Additionally, stand-up pouches are equipped with a ziplock or resealable closure, ensuring effortless opening and closing.
When considering their environmental impact, stand-up pouches present a more sustainable option compared to other packaging alternatives. Typically, they require less material and energy during both the production and transportation processes. Moreover, many stand-up pouches are recyclable or produced from recycled materials.
Read about how you can use pouch packaging to boost your eco-friendly branding efforts.
Step-by-Step Guide on How to Fill Stand-Up Pouches
Looking to fill stand-up pouches? This comprehensive guide has got you covered! Follow the step-by-step instructions to effortlessly fill stand-up pouches with your desired contents. From preparing the packaging area to sealing and labeling the pouches, we've got all the important steps covered. Get ready to streamline your packaging process and ensure that your products are securely stored in these convenient pouches.
Step 1: Preparing the Packaging Area
Clean the workspace: Start by ensuring that the packaging area is clean and free of any dust, debris, or contaminants as a first step in preparing the packaging area for filling stand-up pouches.

Organize the materials: Gather all the necessary materials, including the stand-up pouches, filling equipment, product labels, and any other packaging components, and arrange them in a convenient and accessible manner.

Check pouches for defects: Before starting the filling process, inspect the stand-up pouches for any defects such as punctures, tears, or improper seals. Discard any pouches that are damaged to ensure high-quality final products.

Set up equipment: Install and set up the filling equipment according to the manufacturer's instructions. Ensure that all the necessary components, such as the filling nozzle and sealing mechanism, are properly assembled and functioning.

Sanitize the equipment: Thoroughly clean and sanitize the filling equipment to prevent bacterial contamination. Use approved sanitizing agents and follow recommended procedures to ensure a safe packaging environment.

Prepare labels: If applicable, print and prepare the product labels according to regulatory requirements and branding guidelines. Make sure the labels are easily accessible and ready to be applied to the filled pouches.
By following these steps, you can effectively prepare the packaging area for filling stand-up pouches, ensuring a clean and organized environment for efficient and high-quality packaging operations.
Step 2: Gathering the Materials
It is important to ensure that you have all the necessary items. These items include stand-up pouches, products to fill the pouches with, filling equipment, labels for the pouches, sealing equipment, secondary packaging materials, and quality control tools. By gathering all of these materials before starting the filling process, you can ensure a smooth and efficient packaging operation.
Step 3: Filling the Stand-Up Pouches
Prepare the product: Before filling the stand-up pouches, ensure that your product is ready for packaging. Whether it's powdered goods, liquids, or solid items, make sure they are properly measured, processed, and ready to be filled into the pouches.

Set up the filling station: Position the stand-up pouches in an organized manner on the filling station. Ensure that the pouches are opened and ready to be filled. It might be helpful to have a teammate assist in holding the pouches open.

Fill the pouches: Gently pour or carefully scoop the pre-measured product into each pouch. Pay attention to the filling guidelines to ensure consistency among pouches. Take care not to overfill, as this could compromise the sealing process.

Seal the pouches: Once the pouches are filled, carefully seal them according to the recommended sealing method. This could involve heat sealing, zipper sealing, or any other appropriate method. Make sure the seal is strong and secure to prevent any leaks or contamination.

Inspect and label: After sealing the pouches, inspect each one to ensure there are no defects or issues. Check for any leaks, inconsistencies in filling, or damaged pouches. Once inspected, apply labels or stickers with appropriate product information and branding.
Step 4: Sealing the Stand-Up Pouches
Prepare the sealing equipment: Before sealing the stand-up pouches, ensure that the sealing equipment, such as a heat sealer or zipper sealer, is ready for use. Make sure it is clean and in good working condition.

Inspect the pouches: Before sealing, inspect each stand-up pouch for any defects or damage. Check for any leaks, tears, or faulty seals. Discard any pouches that are damaged.

Close the pouches: To seal the stand-up pouches, carefully close the top of each pouch. For heat sealing, align the edges of the pouch and run it through the heat sealer to create a strong and secure seal. If using a zipper sealer, make sure the zipper is closed securely.

Apply heat: If using a heat sealer, apply heat to the sealing area by pressing the handle or activating the heat source. Hold the pouch in place until the seal is complete. The heat will melt the layers of the pouch together to create an airtight seal.

Check the seal: After sealing, check the quality of the seal on each stand-up pouch. Ensure that the seal is intact and there are no gaps or leaks. This step is crucial for maintaining the freshness and integrity of the contents.
Step 5: Inspecting and Labeling
After the stand-up pouches have been filled with the desired product, carefully inspect the pouches for any defects or damage. This includes checking for any leaks, tears, or abnormalities in the pouches.

Verify that the correct amount of product has been filled into each stand-up pouch. This can be determined by weighing the pouches or using predetermined measurements.

Ensure that the labels on the stand-up pouches are properly aligned and adhered to. Check for any misprints, smudges, or inconsistencies in the labeling.

Confirm that all necessary information is included on the labels, such as product name, ingredients, nutrition facts, and any required warnings or certifications.

Inspect the overall appearance of the stand-up pouches. Make sure they are clean, presentable, and free from any foreign particles or contaminants.

Once the inspection is complete, carefully label each stand-up pouch with the appropriate information, such as batch numbers, expiration dates, or barcodes. Ensure that the labels are securely attached to the pouches.

Step 6: Inspecting and Labeling
Fact: Proper inspecting and labeling of stand-up pouches is essential to maintain product integrity and meet regulatory requirements. It helps to ensure that customers receive high-quality and accurately labeled products.
Tips and Tricks for Filling Stand-Up Pouches
Choose the right pouch size to ensure smooth filling and maintain product freshness. Optimize your filling equipment with high-quality machines designed specifically for stand-up pouches to minimize spills or leaks. Consider the texture of your product and use equipment with larger nozzles or openings for thicker or chunkier products to avoid clogging.

Seal Integrity: Ensure proper seal integrity to extend your product's

shelf life

. Invest in reliable heat-sealing equipment and adjust temperature and pressure settings based on the packaging material being used.

Minimize Air Entrapment: Prevent spoilage and maintain product quality by removing excess air from the pouches. Utilize specialized equipment to vacuum or purge air before sealing.

Label Placement: Carefully position labels on the pouches for maximum visibility and appeal to consumers. Avoid obstructing important product information or brand logos.

Quality Control Checks: Implement thorough quality control checks throughout the filling process. Regularly inspect pouches for leaks, tears, or defects, and discard any faulty pouches.

Consider Sustainability: Be eco-friendly by using recyclable or compostable pouches and minimizing excess packaging materials.
Some Facts About How to Fill Stand-Up Pouches:
✅ Filling reusable and resealable stand-up pouches at home is easy using kitchen utensils like a glass, bowl, or jug.

✅ Commercial techniques for filling and sealing stand-up pouches are complex and closely guarded by manufacturers.

✅ Many manufacturers have patented their pouch-filling techniques to prevent copying.

✅ Most modern manufacturers use automated machines for filling and sealing stand-up pouches.

✅ The filling process for stand-up pouches varies depending on the product and manufacturer.
Frequently Asked Questions
What is the general idea behind filling stand-up pouches?
The general idea behind filling stand-up pouches is to package various items, whether they are loose items, food products, or larger materials, in a convenient and resealable bag.
How can a startup company fill stand-up pouches?
A startup company on a tight budget can choose to fill stand-up pouches manually with the desired weight or quantity using kitchen utensils like a glass, bowl, or jug. They can also purchase inexpensive machines to assist with the filling and sealing process.
What role do human operators play in the filling process?
Human operators input data and monitor automated machines that are used for filling and sealing stand-up pouches. They are responsible for setting the machine properly and ensuring that it is performing as intended.
How do manufacturers ensure prompt shipment of products filled in stand-up pouches?
Manufacturers, particularly larger corporations with large orders, may use automated equipment to fill their stand-up pouches efficiently. This enables them to ship their products promptly to meet customer demand.
What are the pros and cons of flat zipper seal bags for packaging?
Flat zipper seal bags are compact and great for storing smaller products and lower quantities. They are ideal for powders as they prevent material from getting stuck in crevices. However, they may not be suitable for storing larger or heavier objects due to their compact design.
What is the design process for stand-up pouches in the coffee packaging industry?
The design process for coffee packaging in stand-up pouches involves selecting food-grade bags with a zipper closure, considering the perfect package print, and ensuring a reliable seal to preserve the freshness of the coffee beans or grounds.