How to Create Custom Printed Tea Bags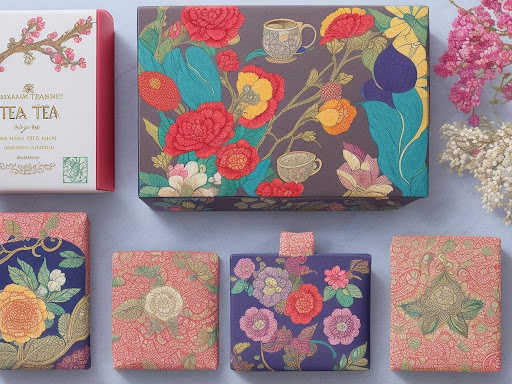 Creating custom-printed tea bags has become increasingly popular due to the unique opportunities it provides for personalization, branding, gifting, and marketing purposes. With custom-printed tea bags, you can add a personal touch to your tea experience, create memorable gifts and favors, and effectively promote your brand or business.
For successful custom-printed tea bags, it is essential to use high-quality tea that offers a delicious and enjoyable taste. Clear and attractive designs on the tea bag labels can enhance the overall appeal of the product. Properly sealing and packaging the tea bags is also crucial to ensuring freshness and maintaining the integrity of the tea.
With these guidelines and tips, you can embark on the journey of creating custom-printed tea bags that are not only visually appealing but also provide a delightful tea-drinking experience.
Packing Pigeon is trusted by some of Canada's largest cannabis, food, and soap companies.
With over 10 years of experience, you can rest assured that we will have your packaging produced to the highest caliber and delivered on time, every time.
We offer custom stand-up pouches. Check our custom stand up pouch shop. 
Order now and receive free online proofs, free express shipping, and lightning-quick turnaround times.
Steps to Create Custom-Printed Tea Bags
Custom-printed tea bags have gained immense popularity for several compelling reasons. From personalization and branding to gift and favor ideas, as well as being a powerful marketing and promotional tool, these tea bags offer a unique opportunity to elevate your tea-drinking experience. With endless possibilities for creativity and customization, discover why custom-printed tea bags have taken the beverage world by storm.
Step 1: Designing the Tea Bag Label
When starting the process of designing the tea bag label, the first step is to create a design that reflects the brand and appeals to the target audience. This involves conducting research to gather inspiration from different tea bag label designs and trends.
Consider the target audience, brand identity, and the desired message that needs to be conveyed through the label. Brainstorm ideas and make rough sketches of potential designs before moving forward.
Choosing the right colors and fonts is also crucial. It is important to select colors and fonts that align with the brand and create a visually appealing label. Take into account the mood and personality of the tea blend and use colors and fonts accordingly.
Additionally, it is essential to incorporate branding elements into the label design. This includes prominently displaying the brand logo, name, and any other brand elements. By doing so, you can establish brand recognition and reinforce brand identity.
When designing the tea bag label, it is important to include relevant information. Make sure to include essential details such as the tea blend name, ingredients, brewing instructions, and any certifications or quality seals. It's crucial to be clear and concise, ensuring that the label provides all the necessary information without overcrowding the design.
Enhancing the label with visual elements can also make it more appealing. Consider adding illustrations, patterns, or images that align with the tea blend and the brand. These visual elements can help create a unique and memorable label that catches the eye of potential customers.
Once the initial label design is created, it is essential to test it out and gather feedback. Check if the label is legible, visually appealing, and effectively communicates the desired message. Take feedback from potential customers and make any necessary refinements before finalizing the design.
After finalizing the design, it's time to prepare the label for printing. Ensure that the label file is in the appropriate format and meets the printing requirements of the chosen method. Pay attention to dimensions and resolution to ensure high-quality printouts.
Step 2: Choosing the Tea Blend
Choosing the right tea blend is Step 2 in creating custom-printed tea bags. Here are the steps to consider:
Understand the different types of tea: There are various types of tea, including black, green, white, oolong, and herbal. Each type has its own flavor profile and health benefits.

Choosing the Tea Blend: Think about the taste you want to achieve with your tea blend. For example, if you prefer a strong and robust flavor, a black tea blend might be suitable. If you prefer a more delicate and floral flavor, a white or green tea blend could be a good choice.

Experiment with different ingredients: Get creative and try different combinations of tea leaves and other ingredients like herbs, spices, and flowers. This will allow you to create unique flavor blends that cater to your target audience.

Consider the purpose of the tea. If you're creating a custom tea blend for relaxation or stress relief, you may want to include ingredients like chamomile or lavender. If you're aiming for an energizing blend, you could incorporate ingredients like yerba mate or matcha.

Consider the health benefits: Certain tea blends have specific health benefits. For example, green tea is known for its antioxidant properties, while herbal teas can help with digestion or sleep. Consider the potential health benefits your target audience may be interested in.

Experiment and taste test: Once you've chosen a combination of tea leaves and other ingredients, it's important to experiment and taste-test the blend. This will help you refine the flavor and ensure that it meets your expectations.

Source high-quality ingredients: To create a premium tea blend, it's crucial to start with high-quality tea leaves and ingredients. This will contribute to the overall taste and aroma of the tea.
By following these steps, you can successfully choose the right tea blend for your custom-printed tea bags, ensuring a delightful and unique tea experience for your customers.
Step 3: Printing the Tea Bag Labels
Prepare the design: Use graphic design software to create the labels for the tea bags. Include the desired text, logo, images, and any other branding elements.

Select the printing method. Choose the appropriate printing method for your labels. Options include digital printing, which is suitable for small quantities and intricate designs, or offset printing, which is ideal for larger quantities and provides high-quality results.

Choose the label material: Consider the type of paper or material that will be used for the labels. Ensure it is suitable for food products and can withstand the brewing process without smudging or tearing.

Set the label dimensions: Determine the size and shape of the labels based on the packaging of the tea bags. Consider factors such as visibility, space for branding information, and adherence to regulatory requirements.

Step 3: Printing the Tea Bag Labels




Print the labels: Use the chosen printing method to print the tea bag labels according to the design and material specifications. Ensure accurate color reproduction and alignment of the artwork.

Inspect the printed labels: Thoroughly check the printed labels for any defects, such as misprints, smudges, or color inconsistencies. Discard any labels that do not meet quality standards.

Apply the labels: Once the labels have been printed and inspected, carefully affix them to each tea bag. Ensure proper alignment and adherence to the packaging material.
Fact: High-quality printing techniques are essential for creating visually appealing and professional-looking tea bag labels.
Step 4: Preparing the Tea Bags
Gather all the necessary materials and equipment needed for preparing the tea bags.

Start by ensuring that the tea bags you have are clean and free from any debris or contaminants.

Prepare the tea blend that you have chosen by measuring the appropriate amount of tea leaves required for each tea bag.

Place the measured tea leaves in a bowl or container, making sure to distribute them evenly so that each tea bag will have the same amount of tea.

Take one tea bag at a time and carefully open it, making sure not to tear or damage the bag.

Scoop the desired amount of the prepared tea blend into the open tea bag.

Gently close the tea bag, ensuring that it is sealed properly to prevent any tea leaves from spilling out.

Repeat this process for the remaining tea bags, filling each one with the desired amount of tea.

Once all the tea bags are filled and sealed, give them a final check to make sure they are properly prepared.

Store the prepared tea bags in a cool and dry place, away from direct sunlight or any strong odors that may affect the quality of the tea.
Step 5: Filling the Tea Bags
Prepare the tea blend: Before filling the tea bags, make sure you have prepared the desired tea blend. This can be a single type of tea or a combination of different flavors.

Measure the tea: Use a measuring spoon or scale to accurately measure the amount of tea needed for each tea bag. This will ensure consistency in taste and strength.

Fill the tea bags: Place a tea bag on a clean surface and carefully spoon the measured tea into the bag. Be sure not to overfill the bags, as this can make it difficult to properly seal them.

Distribute the tea evenly: Use your fingers or a small spoon to distribute the tea evenly within the bag. This will ensure that every cup of tea brewed from the bag has a consistent flavor.

Step 5: Filling the Tea Bags and Sealing the Tea Bags: Once the tea bags are filled, carefully fold the open end of the bag and seal it. You can use a heat sealer or iron to create a tight and secure seal. Make sure the seal is strong to prevent any tea leaves from escaping during brewing.

Inspect the filled bags: After sealing, inspect each tea bag to ensure there are no leaks or loose tea leaves. This will ensure a high-quality product that customers can enjoy without any issues.

Package the tea bags: Once all the tea bags are filled and sealed, place them in clean and hygienic packaging. You can use individual sachets or small boxes to keep the tea bags organized and protected.

Presentation: Consider adding custom labels or tags to the packaging to enhance the visual appeal of your custom-printed tea bags. This can be your brand logo, flavor descriptions, or brewing instructions.
By following these steps, you can create custom-printed tea bags that are filled with the perfect amount of tea and ready to be enjoyed by tea enthusiasts. Strong emphasis should be placed on Step 5: Filling the Tea Bags, as it is a crucial part of the process. It ensures that the tea bags are filled accurately and consistently to deliver a satisfying cup of tea every time.
Step 6: Sealing the Tea Bags
When creating custom-printed tea bags, the sixth step, "sealing the tea Bags," is essential for ensuring freshness and proper brewing. To properly seal the tea bags, follow these steps:
Prepare the necessary sealing equipment: Before sealing the tea bags, make sure to have the required tools, such as a heat sealer or stapler, depending on the type of tea bag being used.

Position the filled tea bags: Align the filled tea bags properly in the sealing area or beneath the stapler.

Seal the tea bags: If using a heat sealer, firmly press it down and hold for a few seconds to create a strong seal. For a stapler, carefully staple the opening of the tea bag for security.

Check the seal: After sealing each tea bag, carefully inspect the seal to ensure it is secure and airtight. This is a crucial step to maintain the tea's freshness and quality.

Repeat the process: Seal all remaining tea bags in the same manner until all are properly sealed.

Store the sealed tea bags: Once sealed, store the tea bags in a cool and dry place away from direct sunlight. This will help preserve the tea's flavor and aroma.

Label and package: After sealing, you have the option to customize the labeling and packaging of the tea bags according to your preference.
By following these steps, you can successfully seal your custom-printed tea bags, ensuring the tea remains fresh and ready for brewing. Step 6, which involves sealing the tea bags, plays a critical role in the tea bag creation process and requires attention to detail for excellent results.
Step 7: Packaging and Presentation
Choose appropriate packaging materials. Select packaging materials that are suitable for tea bags, such as foil or paper envelopes. The packaging should be able to protect the tea bags from moisture and maintain their freshness.

Add branding elements: Incorporate your brand logo, name, and any other relevant information on the packaging. This helps create brand recognition and enhances the overall presentation of the tea bags.

Create attractive designs. Use visually appealing graphics, colors, and fonts to make the packaging eye-catching. This will attract potential customers and make your custom-printed tea bags stand out from competitors.

Ensure proper sealing: Use a reliable method to seal the packaging, such as heat sealing or adhesive closures. This will prevent the tea bags from coming into contact with air or moisture, ensuring their quality is maintained for a longer period.

Include product information: Provide essential information about the tea blend, brewing instructions, and any additional details that may be relevant to customers. This helps consumers make informed choices and enhances their overall experience.

Add finishing touches: Consider adding decorative elements, such as ribbons or labels, to enhance the visual appeal of the packaging. These small details can make the tea bags feel more special and gift-worthy.

Showcase the tea bags effectively. Display the packaged tea bags in an organized and attractive manner. Consider using display stands or boxes that highlight the branding and make it easy for customers to browse and select their desired tea.
Read about the benefits of using eco-friendly pouches for tea.
Some Facts Custom Printed Tea Bags:
✅ Custom-printed tea bags are a popular choice for businesses and individuals looking to promote their brand or create a unique gift.

✅ Companies that offer custom tea bag services can turn creative ideas into reality, adding fun elements to unique tea bags.

✅ Custom tea bag manufacturers provide fully customized manufacturing services, from design to final packaging, allowing customers to create impressive tea products for their brand.

✅ Minimum order quantities for custom tea bags range from 300 to 1000 pieces, depending on the type of bag and customization requirements.
Frequently Asked Questions
How can I create custom-printed tea bags with resealable zippers and tear notches?
To create custom-printed tea bags with resealable zippers and tear notches, you can choose from options like stand-up pouches or flat pouches. These options offer convenience and ensure that your tea stays fresh while providing easy access to the contents.
Can I create custom tea bags infused with cannabis?
Yes, you can create custom tea bags infused with cannabis. With the innovative design and high-tech digital printing capabilities offered by our company, you can explore unique tea blends, including cannabis-infused options.
How can I create impressive tea products with eye-popping artwork and fun elements?
Our company specializes in creating impressive tea products that stand out. You can incorporate eye-popping artwork and fun elements and even turn your craziest ideas into reality. Our professional team will guide you through the process and provide great suggestions to make your tea products unique and memorable.
How can I ensure a fast turnaround time for my custom tea bag order?
To ensure a fast turnaround time for your custom tea bag order, it is important to work with a company that offers instant support, efficient communication, and a professional team specializing in custom tea bag products. Our company aims to provide stellar and outstanding service, ensuring that your order is processed and delivered as quickly as possible.