What Is the Best Custom Packaging for Popcorn?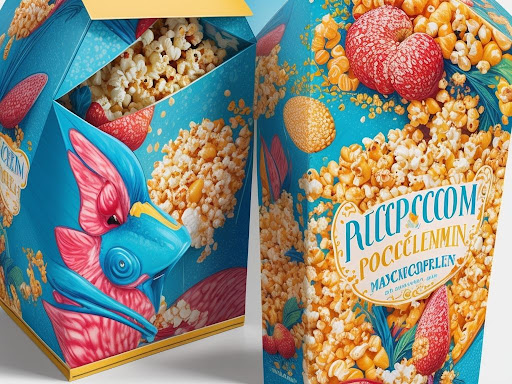 Custom packaging plays a crucial role in the success of popcorn brands. It not only protects the product but also serves as a powerful marketing tool. This article will explore the importance of custom packaging for popcorn, discuss different types of packaging options, highlight factors to consider when choosing custom packaging, and delve into the latest trends in popcorn packaging.
Packing Pigeon is trusted by some of Canada's largest cannabis, food, and soap companies.
With over 10 years of experience, you can rest assured that we will have your packaging produced to the highest caliber and delivered on time, every time.
We offer custom stand-up pouches. Check our custom stand up pouch shop. 
Order now and receive free online proofs, free express shipping, and lightning-quick turnaround times.
Types of Custom Packaging for Popcorn
When it comes to packaging your popcorn, there are various options that cater to your specific needs. In this section, we will dive into the exciting world of custom packaging for popcorn.
From versatile stand-up pouches to classic popcorn boxes and tin cans to innovative bag-in-box packaging, we'll explore the different types that can elevate your popcorn experience. Hold on to your kernels as we uncover the best packaging solutions backed by facts and industry expertise.
Stand-Up Pouches
Stand-Up Pouches
1. Versatility: Stand-up pouches are a versatile option for custom packaging for popcorn. They are available in different sizes, shapes, and designs to suit various popcorn products.
2. Convenience: Stand-up pouches are lightweight and easy to carry, making them convenient for on-the-go snacking. They have a resealable closure, ensuring that the popcorn stays fresh for longer periods.
3. Brand Visibility: Stand-up pouches provide ample space for branding and product information. The front surface can be used for attractive designs and logos, enhancing brand visibility and attracting customers.
4. Shelf Appeal: Stand-up pouches have a sleek and modern appearance, making them visually appealing on store shelves. The attractive packaging can catch the attention of customers and encourage them to choose the product.
5. Protection: Stand-up pouches are made of durable materials that provide protection from moisture, light, and oxygen. This helps to maintain the freshness and quality of the popcorn, ensuring a satisfying snacking experience for consumers.
6. Eco-Friendly: Many stand-up pouches are made from recyclable materials, making them an environmentally friendly packaging option. Choosing eco-friendly packaging can align with the sustainability goals of consumers.
Popcorn Boxes
To understand the different types of custom packaging for popcorn, let's take a look at the features and advantages of popcorn boxes:
| | |
| --- | --- |
| Features | Advantages |
| 1. Sturdy and convenient packaging options for popcorn | 1. Provides a secure container to hold popcorn and prevent spilling. |
| 2. Available in various sizes to accommodate different portion sizes | 2. Allows for portion control and flexibility in serving |
| 3. Can be made from sustainable materials, such as cardboard or paperboard. | 3. Supports eco-friendly packaging initiatives and appeals to environmentally conscious consumers |
| 4. Customizable designs and prints can be applied to the exterior of the box. | 4. Enhances brand visibility and recognition, attracting customers |
| 5. Some popcorn boxes have additional features like handles or windows. | 5. It makes it easier to carry and display the popcorn, providing a visually appealing presentation. |
Popcorn boxes offer a practical and visually appealing solution for packaging popcorn. Their sturdy construction ensures the safe transportation of the popcorn, while the customizable design options allow for branding and attracting customers.
The availability of different sizes caters to various portion sizes, making it suitable for individual serving or sharing. The use of sustainable materials promotes environmental sustainability. By choosing popcorn boxes, businesses can create an enjoyable popcorn experience for their customers.
Tin Cans
| | | |
| --- | --- | --- |
| Tin Cans | Description | Benefits |
| 1. | Tin cans are sturdy and durable containers made of tin-coated steel. | Tin cans provide excellent protection against moisture, light, and oxygen, ensuring the popcorn stays fresh for longer periods of time. |
| 2. | Tin cans are available in various sizes, ranging from small personal-sized cans to larger family-sized cans. | Tin cans offer versatility in packaging, allowing for different portion sizes to accommodate individual preferences. |
| 3. | Tin cans can be customized with attractive designs and graphics to enhance brand visibility and appeal. | Customized tin cans create memorable and visually appealing packaging that stands out on store shelves, attracting customers. |
| 4. | Tin cans are recyclable, making them an environmentally friendly packaging option. | Choosing tin cans demonstrates a commitment to sustainability, appealing to eco-conscious customers. |
| 5. | Tin cans can be resealed tightly, maintaining the popcorn's freshness even after opening. | The resealable feature of tin cans ensures that the popcorn remains crispy and flavorful for multiple snacking sessions. |
Pro-Tip: Consider using tin cans for your popcorn packaging to ensure optimal freshness, protect against external factors, and create visually appealing custom designs that will attract customers. The recyclable and resealable nature of tin cans also aligns with sustainability goals and promotes long-lasting enjoyment of your popcorn product.
Bag-in-Box Packaging
Type of Packaging

Description

Advantages

Bag-in-Box Packaging

Bag-in-Box packaging refers to a container made of a durable bag placed inside a sturdy cardboard box.

Preserves freshness: The airtight bag prevents the popcorn from being exposed to air, keeping it fresh for a longer period.

Easy storage: The box provides stability and makes it convenient to stack and store the popcorn.

Portability: The handles on the box make it easy to carry the popcorn, making it a suitable option for events or parties.

Dispensing convenience: Bag-in-Box packaging often includes a built-in spout or valve for easy dispensing of the popcorn without the need for additional utensils.

Reduced waste: The bag is collapsible, enabling the consumer to use every last bit of the product and reducing overall packaging waste.

Cost-effective: Bag-in-Box packaging typically offers a more economical option compared to individual popcorn boxes or pouches.
Choosing the right custom packaging for popcorn is like finding the perfect movie snack—it needs to be durable, stylish, and leave a delicious impression.
Factors to Consider When Choosing Custom Packaging for Popcorn
When it comes to finding the perfect custom packaging for popcorn, there are several crucial factors to consider. So, let's dive right in and explore the key aspects that can make or break your packaging choice. From durability and design to size, materials, sustainability, and cost-effectiveness, we'll unravel the secrets behind selecting the most suitable packaging for your delicious popcorn treats. Get ready to discover the ultimate packaging solutions that will enhance your popcorn experience and captivate your customers.
Packaging Durability
When evaluating the optimal custom packaging for popcorn, one crucial aspect to take into account is the durability of the packaging. Here are some essential considerations:
Material strength: It is important to choose packaging made from robust materials that can withstand the weight of the popcorn without tearing or breaking. Look for materials like thick cardboard or high-density polyethylene, which provide durability.

Tear resistance: The packaging should be resistant to tearing, especially if the popcorn is being shipped or handled roughly during transportation. Reinforced seams or tear-resistant films can help ensure the packaging remains intact.

Moisture resistance: Popcorn can become stale when exposed to moisture. Choose packaging that incorporates a moisture barrier to keep the popcorn fresh and crispy for a longer period of time. This helps maintain its quality and prevents the popcorn from becoming soggy.

Impact resistance: The packaging should be able to withstand accidental impacts or drops that may occur during handling or transit. This is particularly crucial if the popcorn is being shipped or stored in locations where rough handling may occur.

Heat resistance: Some popcorn may be served warm or hot, so the packaging should be able to handle higher temperatures without warping or losing its structural integrity. Using heat-resistant materials can help prevent any damage or safety hazards.
By considering the durability of the packaging, you can ensure that your custom packaging for popcorn maintains its quality, protects the product, and provides a positive experience for both customers and retailers.
Custom packaging for popcorn: when design meets deliciousness, it's a match made in snacking heaven.
Design and Customizability
| | |
| --- | --- |
| Design and Customizability | Design and Customizability |
| Design plays a crucial role in custom packaging for popcorn. | Customizability is an important factor to consider in popcorn packaging. |
| Eye-catching and attractive designs can help grab the attention of customers. | Customizability allows brands to create unique packaging that stands out. |
| The design should reflect the brand identity and values. | Customizable packaging options enable brands to align packaging with their brand image. |
| The design should also consider the target audience and their preferences. | Brands can tailor the packaging design to cater to specific customer segments. |
| Well-designed packaging can create a positive association and enhance brand recognition. | Customizable packaging allows brands to cultivate a strong brand identity. |
| Effective design can communicate the quality and appeal of the popcorn product. | Customizable packaging options enhance the overall perception of the product. |
| The design should also consider practicality and ease of use for consumers. | Customizable packaging options can be designed to meet specific functional requirements. |
| The design should be consistent with the overall packaging strategy and brand positioning. | Customizability allows brands to maintain consistency across different packaging formats. |
Size and Capacity
| | |
| --- | --- |
| Size | Capacity |
| Small | 1 ounce |
| Medium | 4 ounces |
| Large | 8 ounces |
| Jumbo | 16 ounces |
| Giant | 32 ounces |
When considering the size and capacity of custom packaging for popcorn, there are several options available. The size refers to the dimensions or physical size of the packaging, while the capacity refers to the amount of popcorn the packaging can hold.
Some common sizes for custom popcorn packaging include small, medium, large, jumbo, and giant. Each size offers different dimensions to accommodate various quantities of popcorn.
For example, small-sized packaging typically has a capacity of 1 ounce, making it ideal for individual servings or small samples. Medium-sized packaging can hold up to 4 ounces, suitable for single servings or smaller portions. Large-sized packaging can accommodate around 8 ounces of popcorn, making it suitable for sharing or larger servings.
If you need even larger quantities, jumbo-sized packaging can hold up to 16 ounces, while giant-sized packaging can hold up to 32 ounces of popcorn. These sizes are perfect for parties, events, or for those who simply enjoy a larger amount of popcorn.
When choosing the best custom packaging for popcorn, consider the size and capacity that align with your specific needs. Whether you prefer individual servings or larger portions, selecting the right size and capacity will ensure that your popcorn is packaged appropriately and meets your requirements.
Learn if fermented food will last in a stand up pouch.
Material and Sustainability
The material and sustainability of custom packaging for popcorn are essential factors to consider when selecting the best packaging option. The table below presents information on the different packaging materials commonly utilized for popcorn and their sustainability attributes.
| | |
| --- | --- |
| Packaging Material | Sustainability Attributes |
| Cardboard Boxes | Recyclable, biodegradable |
| Paper Bags | Biodegradable, compostable |
| Bioplastic Films | Made from renewable resources, biodegradable |
| Reusable Containers | Reduces waste and minimizes environmental impact |
Cardboard boxes are an excellent choice for popcorn packaging due to their recyclability and biodegradability. They can be easily recycled after use, minimizing the overall environmental impact.
Paper bags are another sustainable option, as they are biodegradable and can be composted. Bioplastic films, made from renewable resources, offer a sustainable alternative to traditional plastic films, as they can naturally break down in the environment.
For those seeking a more sustainable solution, reusable containers can be a great option. These containers can be used multiple times, reducing waste and minimizing the environmental impact. They are durable and can be easily cleaned between uses.
When considering the material and sustainability of custom packaging for popcorn, it is crucial to choose options that align with your environmental values. By opting for recyclable, biodegradable, or reusable materials, you can contribute to reducing waste and promoting sustainability in the packaging industry.
Popcorn packaging saves you money because who needs expensive kernels when you can have budget-friendly bags?
Cost-Effectiveness
When selecting custom packaging for popcorn, it is crucial to take into account cost-effectiveness. This element ensures that you attain the best value for your money while still accomplishing your packaging objectives.
Material cost: Evaluate the expense of the packaging materials. Some options, such as paper bags or stand-up pouches, offer a more affordable alternative compared to tin cans or custom-designed boxes.

Production cost: Consider the cost involved in manufacturing the packaging. Elaborate designs or special features may raise production costs. Opting for simple and straightforward packaging can help decrease expenses.

Storage and transportation cost: Factor in how the packaging will affect storage and transportation. Bulky or heavy packaging can amplify logistics costs. Choosing lightweight and stackable packaging can help save on storage and shipping expenses.

Longevity: Assess the durability and lifespan of the packaging. If the packaging is reusable or has a longer shelf life, it can result in cost savings in the long run by minimizing the need for frequent replacements.

Sustainability: Consider eco-friendly packaging options. Although they may have a higher initial cost, they can be cost-effective in the long term by appealing to environmentally conscious consumers. Eco-friendly packaging choices may qualify for tax credits or incentives.
By considering these factors of cost-effectiveness, you can choose custom packaging for popcorn that fulfills your budget requirements without compromising on quality or functionality.
Frequently Asked Questions
Are there any custom boxes available for private events?
Yes, there are custom-printed popcorn boxes specifically designed for private events. These boxes can be customized in terms of size, shape, and design, allowing you to create a unique branding opportunity for your event.
What are some trendy popcorn packaging ideas?
Some trendy popcorn packaging ideas include using flashy colors, famous movie characters, and unique shapes to drive interest and appeal to your targeted audience. You can also consider packaging with a display window to showcase the product inside.
Is there an eco-friendly popcorn packaging option?
Yes, there are eco-friendly packaging options available for popcorn. These options include recyclable materials and sustainable packaging practices, allowing you to reduce your environmental impact while still presenting your popcorn in an attractive and professional manner.
Which packaging style is best for movie theaters?
For movie theaters, large, closed-top popcorn boxes are often the best-sellers. These boxes provide enough capacity for a satisfying popcorn experience and can be customized with movie-themed designs to enhance the moviegoing experience for customers.